PIL THANYAPORN TERMURAH KEDAI-SABUN
PIL THANYAPORN PUERARIA MIRIFICA
PIL THANYAPORN UNTUK PAYUDARA
PIL THANYAPORN BORONG
PIL THANYAPORN TERMURAH
produk id - th03

harga x masuk pos
harga runcit - rm23 sebotol
harga borong (5-12 botol) - rm20 sebotol
untuk yg nak ambil dalam kuantiti yang lebih banyak sila contact saya.
Thanyaporn pueraria mirifica terbukti berkesan menegang,memejal dan membesarkan buah dada.
Mengandungi 60 kapsul dan untuk pemakanan selama 2 bulan.
Ia adalah persediaan semulajadi dan berkesan bagi wanita yang mempunyai buah dada kecil dan tidak tegang.
KELEBIHAN THANYAPORN PUERARIA MIRIFICA
1) Pengilangnya adalah antara yang terbesar di Thailand dan dah established
2) Mempunyai ladang Pueraria Mirifica yang mengandungi Phytoestrogen bahan asas terpenting untuk pembesaran buah dada.
3) Kandungan Pueraria Mirifica yang lebih berbanding produk produk lain
4) Kualiti yang tinggi Pokok Pokok Pueraria Mirifica hanya terdapat di Thailand & Myanmar , Pengeksportan pokok pokok ini adalah dilarang di Thailand tetapi produk -produk berasaskan Pueraria Mirifica dibenarkan .
KESAN PENGGUNAAN THANYAPORN
1) Mengalami pencerahan kulit
2) Payudara semakin kental dan pejal
3) Bentuk badan lebih mengiurkan
4) Pembesaran payudara dialami dalam tempoh 1 bulan
5) Meransang keintiman suami isteri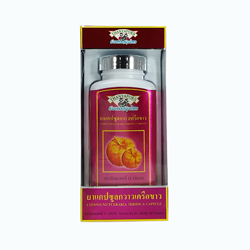 KELEBIHAN THANYAPORN PUERARIA MIRIFICA
Menambah saiz payudara.
Menegangkan payudara dan punggung yang mengendur.
Mencerahkan kulit (termasuklah kulit pada bahagian puting payudara).
Menganjalkan kulit yang melendut.
Melambatkan proses penuaan.
Melangsingkan badan dengan peningkatan jisim badan tanpa lemak.
Merawat masalah-masalah yang berkaitan dengan rahim.
Menghalang jangkitan pada vagina dan pundi (bladder)
Mengetatkan vagina.
Mencegah dan mengurangkan penyakit migrain.
Membantu menggelapkan rambut beruban dan menggalakkkan pertumbuhan rambut
Menambah tenaga dan kecergasan
Mengatasi masalah sukar tidur
Menjadikan kulit lebih lembut dan lebih muda
cara pemakanan
Satu botol mengandungi 60 biji kapsul (1 kapsul untuk 1 hari) (150mg) ambik selepas dinner atau breakfast. sejam selepas makan. Wanita yang mempunyai berat badan 75kg dan keatas boleh mengambil 2 biji setiap hari.
Wanita yang mempunyai berat badan kurang dari 75kg mengambil 1 biji setiap hari kapsul yang mengandungi 150mg Puereria Mirifica. Pueraria Mirifica tidak sesuai digunakan oleh gadis yang berumur kurang dari 20 tahun kerana tubuh belum berkembang sepenuhnya. Selain itu, wanita mengandung,period dan menyusukan anak juga tidak sesuai menggunakannya. Sila ikut sukatan pemakanan yang betul.
Pueraria Mirifica Pueraria Mirifica is a plant that grows at high altitudes in the North of Thailand, in Thai the plant is called White Kwao Krua. The Pueraria Mirifica plant has very powerful estrogenic effects. In Asia it is used for centuries as an anti-aging remedy. Also Pueraria Mirifica is well known for natural breast enlargement and breast firming. The Phytoestrogen compounds have positive effects on treating osteoporosis, prostate cancer, reduction of the menopausal syndrome and prevention of hormonally based cancers. Phytoestrogens are not hormones, but they provide the same benefits as estrogen which is the body's primary source for breast enlargement. Phytoestrogens maximizes the blood flow and estrogen distribution through the breast tissue. Your breasts will get bigger and firmer. Pueraria Mirifica increases the fatty tissue around the breast. Pueraria Mirifica supports collagen which gives your breasts a soft but firm natural shape. After starting to use the Pueraria Mirifica capsules results will show after 2 - 4 weeks depending on the quantity of tissue in the breasts. The maximum increasement of the breasts will be achieved after 3 months of using Pueraria Mirifica. Increases of breast size from 1 - 3 inches are possible. If one stops using Pueraria Mirifica completely, the breasts will return to it's old shape again over time. If you want to keep the increased size and firmness of your breasts you should lower the dose from 1 daily to 2 - 3 per week. If you want faster results, you can combine taking the capsules with using Boom Breast Cream, also made from Pueraria Mirifica. WARNING: Pueraria Mirifica should not be used by woman under 20 years of age as the body is not fully grown yet. Also pregnant woman should consult their doctor first. Please follow the dosage on the package. Some other benefits of the Pueraria Mirifica herb: - serves as 'fountain of youth' - darkens grey hair and helps increasing hair growth - increases energy levels and vigor - better blood circulation - diminues sleep problems - it will help your skin to look smoother and younger Advised dosage is 1-2 mg/kilo per day. Example, if you weight is60 kg, you daily dosage is maximum 60 - 120 mg/day. These capsules contain 100 mg Pueraria Mirifica per capsule. If your weight is over 75 kilo, you should consider to take our other Pueraria Mirifica capsules which contain 150 mg Pueraria Mirifica per capsule.
Usage: 1 - 2 capsules after breakfast
Content: 150 mg Pueraria Mirifica extract per capsule
Packing: Bottle with 60 capsules
Expiration: 20 - 24 months
GMP, HACPP, HALAL